Pet Themed Speech Therapy Ideas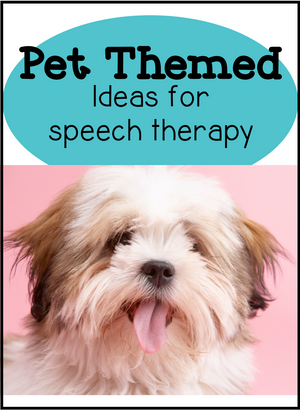 I love using themes in therapy.
You can read more about the benefits of themed therapy and the research behind it through this blog post HERE. 
Also, if you love using themes in speech therapy and work with the preschool and early elementary populations, be sure to check out our themed subscription boxes by clicking the image below!
An important part of themed therapy is the use of hands-on activities that engage multiple senses. It is also important to give many exposures to the new concepts across different contexts (play, book reading, videos, etc). Below you will find my top favorite items and activities to use with a pet theme!


Click the title of the item to be taken to the product!


TOYS
1. Shelby's Snack Shack Game
This is a fun game to have as a reinforcer between trials. Turns are quick and the students are usually very motivated by the cute, tiny bones. 
2. Soggy Doggy
Kids LOVE this game. I only pull it out as a reinforcer on special occasions because it can make a bit of a mess. But, every time I do pull it out, my students will do just about any therapy task in order to get a turn playing this game.
3. Pretend Play Figures
PET COUNTERS
JUMBO MIXED PETS
HORSE STABLE
All of these play sets are great to use during play-based therapy. I like to use figures like these to work on various language targets (expanding utterances, following directions, sentence comprehension, play skills) with my preschoolers. 
4. Dalmatian Vet Kit
Another great kit for pretend play. You can use all of the pieces that come in this kit with other stuffed animals and pet figures as well. This toy is great for working on WH questions and vocabulary.
5. Pet Reusable Stickers
I love reusable stickers! This particular set has a wide variety of pets and offers a great opportunity to introduce the themed vocabulary in a new context. 
BOOKS
1. Biscuit Visits the Doctor
This is a great book to read before playing with the vet set shown above. Great for introducing new vocabulary and targeting WH questions. 
2. Mama Cat Has Three Kittens
Another simple book with very few words. Repetitive and great for teaching verbs and expanding MLU. 
3. Some Pets
A great, simple book to introduce new vocabulary. 
4. That's Not My Hamster
A book from the "That's not my..." Usborne book series. A fun, repetitive book with a touch and feel component. Great for teaching descriptive vocabulary. There are also other pet versions of this book: puppy, kitten, bunny. 
ONLINE ACTIVITIES
1. Comprehensive Pet Themed Boom Cards
2. Feed the fish
This activity would probably be boring for your older students but it is a simple activity that can be used as a quick reinforcer between trials for your preschoolers. Click the animals, food, cave, etc to see different things happen!
Don't forget to turn the volume off on this website 😬
3. "I Have a Pet" song
A wonderful, simple song to target pet vocabulary and animal sounds. 


FREE TPT RESOURCES
1. Pet themed boom card board game
2. Pet flashcards & sorting book
4. Articulation pet home tracing
MOVEMENT & SENSORY ACTIVITIES 
1. Pet Charades. Provide a movement break while simultaneously targeting verbs and other pet related vocabulary. Take turns acting like a pet for the other person to guess!
2. Wash the pet sensory bin. Get some plastic pet figures, a bin of water (and soap if you wish), and a towel. Let the child give each pet a bath! You can target concepts such as: wet, dirty, clean, dry, in, out, etc. 
Leave a comment
Comments will be approved before showing up.