Strategies for Teaching Vocabulary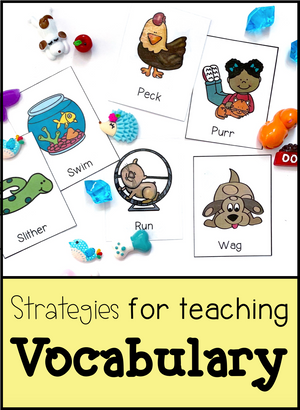 "John will point to the named vocabulary picture from a field of 3 ....." is not a method of instruction! When working on vocabulary with our students, we need to get out of testing and into teaching. Below you will find strategies to use when teaching new vocabulary words to young children (preschool and early school-age). 
I love to apply these strategies to my therapy when teaching in themes. You can learn more about the benefits of using themes in therapy by reading the blog post HERE.
Give multiple exposures to the new word. There are studies supporting giving multiple exposures in both multiple contexts (across play, different books, videos, etc.) and the same context (e.g., the same book read many times) (Goldberg, Casenhiser, & Sethuraman, 2004). One study found that there was no significant difference in the methods of instruction

(Hadley et al. 2018).

Either way, giving the child multiple exposures is a crucial part of vocabulary instruction.

 Set up your therapy sessions around this new vocabulary so that the target words come up frequently throughout. It is also a great idea to keep the family informed about what you are working on so they can continue to be exposed to these concepts outside of the therapy room.

Use semantic mapping. Write down or draw a picture of the new vocabulary word and think of words that are related to it. You can draw a web around the new word linking to synonyms, describing words, words that the child has prior knowledge about, -anything that is related to the new word and helps build semantic connections to it.
Tell the child the definition! As simple as this seems, it is often overlooked. Explicitly giving the child a child-friendly definition of the target word is important for helping him/her understand the new concept (Hadley et al. 2018).
Teach new vocabulary in themes and taxonomies. Specifically, discuss the category, function, and other major features of the target word. Learn more about using themes by reading this post HERE.
Link the new word to the child's real life experiences and background knowledge (Parsons et al., 2005). When a child is learning a new word, (for example, the word -"groom" as it is related a groomer grooming pets) link that word to the student's prior knowledge. Does the student have a pet? Has that pet ever been to the groomers or gotten a bath? Is the student familiar with vocabulary of his/her own hygiene routine which you could relate to this new word (e.g., soap, towel, brush, shower, etc.).
Teach opposites and non-examples of the new word.
Themes are one of my favorite ways to teach vocabulary!
Themed therapy is fun for the student and makes lesson planning easier for the SLP. Are you an SLP working with the preschool or early elementary ages? 
If you are & if you love hands-on no prep therapy, be sure to check out our bimonthly, themed subscription boxes!
Goldberg, A.E., Casenhiser, D.M., & Sethuraman, N. (2004). Learning argument structure generalizations. Cognitive. Linguistics, 15(3), 289–316.doi.org/10.1515/cogl.2004.011
Hadley, E. B., Dickinson, D. K., Hirsch-Pasek, K., & Golinkoff, R. M. (2018). Building semantic networks: The impact of a vocabulary intervention on preschoolers' depth of word knowledge. Reading Research Quarterly. 
Parsons S, Law J, Gascoigne M. Teaching receptive vocabulary to children with specific language impairment: A curriculum-based approach. Child Language Teaching and Therapy. 2005;21:39–59.
Steele, S. C., & Mills, M. T. (2011). Vocabulary Intervention for School-age Children with Language Impairment: A Review of Evidence and Good Practice. Child language teaching and therapy, 27(3), 354–370. https://doi.org/10.1177/0265659011412247
Leave a comment
Comments will be approved before showing up.