How to Use Mini Objects to work on Fine Motor and Visual Perceptual Skills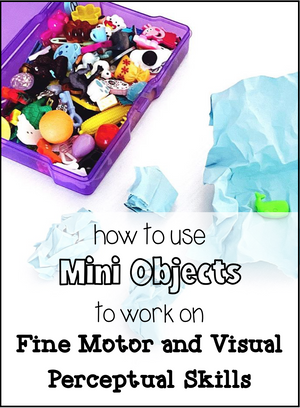 I love co-treating with therapists from other disciplines. Every time I do, I learn SO much! It also gives me the opportunity to teach these therapists a thing or two about my field and how to incorporate language into their sessions. 
I was SO excited to have the opportunity to collaborate with an occupational therapist for this post!
I  worked with Nathalie from Heart of OT (click to check out all of her amazing tips and ideas on her instagram) to give you guys some great ideas on how to use mini objects during occupational therapy! 
I knew that these mini objects could be great for developing fine motor skills but that was about the extent of my knowledge in the area... figure-ground skills?! multisensory handwriting?! Never even heard of it! 
Nathalie did not disappoint with her six amazing ideas for working on a variety of fine motor and visual perceptual skills using the mini objects from my shop! The best part is that speech and language concepts can easily be targeted while using these ideas. 
A couple of my favorite ideas are the multi-sensory handwriting, the objects in containers and the objects in crumpled paper. I can already picture myself using the multi-sensory handwriting activity in my speech sessions. I would choose objects that contain the target sound and have the child practice the word several times before writing it on the paper! I also can't wait to use the containers and crumpled papers idea for my preschoolers. These activities are perfect for working on requesting, MLU, and expanding vocabulary (hide, in, out, close, open, .... endless possibilities!). 

I know I will be incorporating a lot more fine motor activities in my speech therapy sessions from now on. Let me know what you guys think and if you have any other ideas that were not mentioned!
1. Target fine motor skills by letting the child tear pieces of paper and hide the mini objects inside. It is also good fine motor practice to have the child uncover the item. 
2. Target visual scanning and figure-ground skills by having the child visually search for items starting with each letter. 
3. Multi-sensory handwriting activity. Grade up or down depending on the level of the child. Write the name of each item, trace the name of the item, or write a sentence about the item.
4. Increase hand strength and manual dexterity skills by having the child open different types of containers to obtain each item.
5. Target hand strength and visual-motor integration skills by sorting items into different categories using tongs.
6. Target scooping and manipulation of spoon for feeding tasks.
The mini objects that Nathalie is showing in these pictures are the miscellaneous minis and are available at this link!
You can also use these same ideas with the speech sound minis if you want to incorporate these into articulation practice :)
Check out more ideas for how to use these fun mini objects on my instagram @SpeechTreeCo and be sure to follow @HeartOf.Ot for tons of information and ideas about occupational therapy! 
1 Response
Leave a comment
Comments will be approved before showing up.